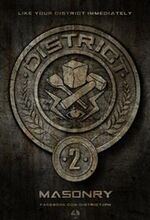 Lyme won the 52nd Hunger Games. It is unknown how she won her Games but she is the victor of those Games.
Lyme was killed in the battle in District 2 after Katniss Everdeen was shot. She was going to go to the Capitol to kill Snow, because Coin wanted as many victors as possible but she died before they were sent to the Capitol.
Lyme was very determined. When the rebellion started, she was willing to do anything for District 2 to ally with the rebels. She could be kind and caring but she could also be mean and cold.

Lyme had won a previous Hunger Games so it is assumed that she killed a few people.