"Panem is one of the most advanced nations in mankind's history, thanks to the efforts of District 3. Its computers keep us all connected, and its electronic gadgets keep us all entertained."

District 3's industry is technology. They make all the electronic items that are used daily by the citizens of Panem. They also create the electronic devices that the Capitol citizens use to entertain themselves.
Known Citizens
[
]
Tributes
[
]
Victors
[
]
Beetee

- Won the

36th Hunger Games

Wiress - Won the

41st Hunger Games
Mayors
[
]
None are known
Escorts
[
]
None are known
Rebels
[
]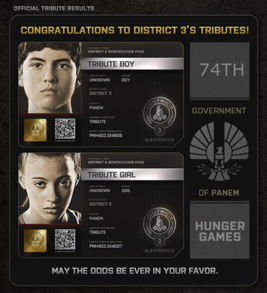 Beetee

- Showing results for Beete (beet)

to mend; to repair
to renew or enkindle

Wiress - Showing results for Wire (wahyuhr)

a slender, stringlike piece or filament of relatively rigib or flexible metal, usually circular in section, manufactured in a great variety of diameters and metals depending on its application

For a complete list of Districts go here....