"District 1 makes the luxury goods that decorate and beatify our great Capitol. Its excellent taste and craftsmanship keep Capitol residents bewiggled and bedazzled year-round."

District 1 creates and manufactures luxury items for The Capitol. They are the ones who manufacture any items that the Capitol citizens use for entertainment. Also, in District 1, they mine diamonds and various other precious gems.
Known Citizens
[
]
Tributes
[
]
Victors
[
]
Mayors
[
]
None are known
Escorts
[
]
None are known
Rebels
[
]
None are known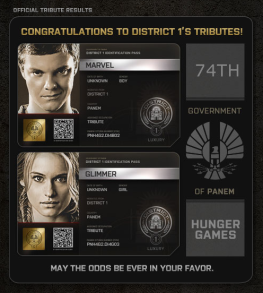 District One citizens are usually blonde and good-looking.
Katniss killed the male District One tributes from both of the Games she played in; Marvel in the 74th Hunger Games and Gloss in the 75th Hunger Games.
They have machines that can turn coal into diamonds.

For a complete list of Districts go here....